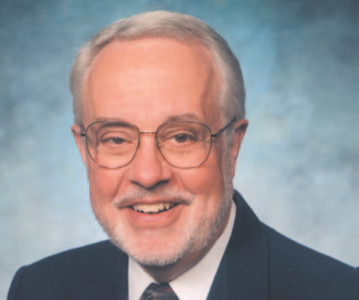 By Anonymous - December 22, 2020
The School of Religion is saddened to learn of the recent death of Dr. Louis Venden. For over half a century, Dr. Venden gave distinguished service as an Adventist minister, scholar, and leader, including twelve years as senior pastor of the LLU Church (1977-1989) and more than twenty years as a professor in the LLU School of Religion. He also served for two years (2001-2003) as Director of the University's Center for Spiritual Life and Wholeness.
Louis Venden was born May 3, 1930 at the Adventist hospital in Portland, Oregon, and he grew up in the home of a prominent Adventist evangelist. Lou, as he was known, graduated with his B.A. in theology from La Sierra College in June, 1951, and married Marjorie Lewis two days after graduation. Always a pastoral team, Lou and Marjorie began their ministry that same year in northern California. Later, Lou served in evangelism and as a professor at Japan Missionary College.
Lou had remarkable gifts for uniting pastoral ministry with academic scholarship. He earned an M.A. in theology from Potomac University (1958), an M.Div. from the Seventh-day Adventist Theological Seminary at Andrews University (1966), and a Ph.D. in homiletics and liturgics from Princeton Theological Seminary (1979). During his ministry, he taught at the SDA Seminary, was senior pastor of the Pacific Union College Church, and chair of the Religion Department at Pacific Union College before returning to teach religion courses at LLU in 1996. In 2003, Lou was appointed LLU Emeritus Professor of Religion and he was recognized with the LLU's Distinguished University Service Award.
During retirement, Lou and Marjorie continued their much-appreciated ministry of pastoral care and visitation. Lou died in the morning of Tuesday, December 8, 2020. The spiritual blessings of his life of 90 years will be celebrated throughout eternity.
To submit condolence messages or fond memories, please contact religion@llu.edu
The recorded video celebration of Dr. Venden's life is scheduled for May 22nd at 3:00 PDT. The service will be hosted on www.calimesasda.com and a live Zoom session will immediately follow.