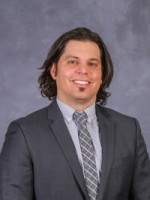 Saul Barcelo, PhD
Assistant Professor, Relational Studies; Director, Center for Whole Person Care
909-558-7786; x. 87786 on campus
sbarcelo@llu.edu
Born and raised in Mexico, Dr. Saul Barcelo migrated to the United States to continue his education. This early experiences of being uprooted from familiar spaces allowed him to understand what it means to be "in between spaces" and at the same time helped him develop a border thinking that is reflected in his current work as a Pastor, Chaplain, Professor and Scholar.
After graduating from La Sierra University, Dr. Barcelo served as an associate pastor in the Southeastern California Conference. Following eight years of ministry working with young adults, Saul transitioned into health care ministries as a hospice chaplain. In 2011 he was invited to join the Chaplain Service staff of Loma Linda University Health where he cared predominantly for patients, families and staff at the LLU Children's Hospital.
Dr. Barcelo joined the faculty of School of Religion in 2021 as the Director of the Center for Whole Person Care and an assistant professor. His research interests include topics of spirituality in healthcare, healthcare chaplaincy, ethics, the intersection of race and religion in society, theologies of liberation and Latinx identity and spirituality.
His education includes a Master's degree in Clinical Ministries from Loma Linda University, as well as a Master's degree and a PhD in Religion, Ethics and Politics from Claremont School of Theology.
Dr. Barcelo is married to Susie, and they have two sons and a daughter. In his free time, he enjoys traveling with the family and sampling new restaurants.